NAPLES — A Naples City Council member wants to know if you think everyone should be required to take the COVID-19 vaccine when it becomes available.
Vice Mayor Terry Hutchison is asking people to reach out to him, because he says he plans to bring it up for discussion at a future city council meeting.
Even though a COVID-19 vaccine is months, if not years away from market, Hutchison says now is the time to start talking about what to do when it becomes available.
"This could actually become a serious subject matter for government officials to consider," said Hutchison.
Hutchison says a mandate has to be considered, because in order for a vaccine to be effective, a large number of people have to get it. Dr. Robert Hawkes, the director of the Physician Assistant Program at Florida Gulf Coast University says the concept is known as herd immunity.
"Generally you need about 80 to 90 percent of the population to have immunity, in theory be vaccinated, in order to be protected against that, to therefore achieve what we call community immunity or herd immunity," said Dr. Hawkes.
But right now, researchers are afraid that, given the opportunity, many people wouldn't take the vaccine voluntarily.
We ran a poll on our Fox 4 Facebook page Thursday, asking, if a vaccine became available, would you take it?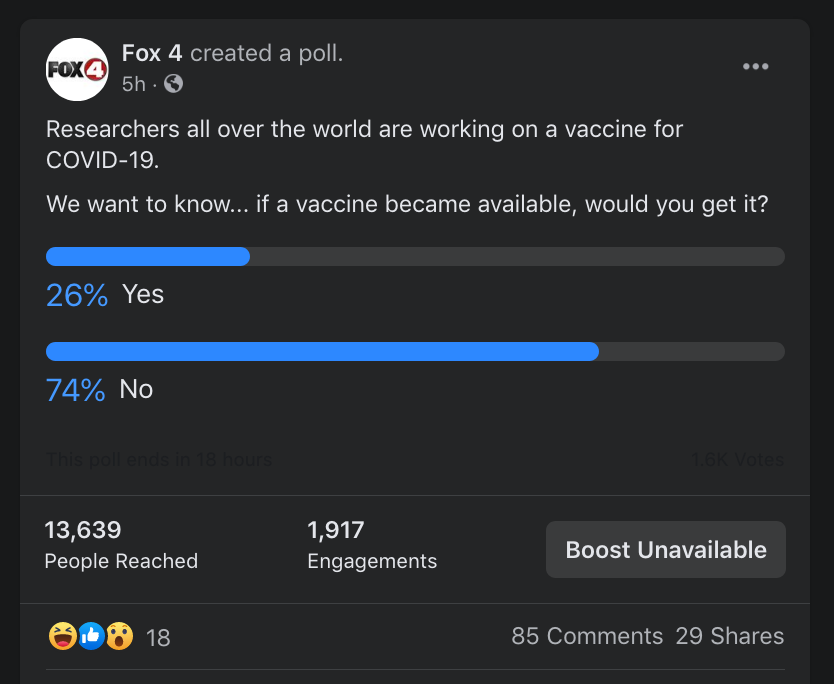 More than 1,600 people voted, and overwhelmingly said they would not.
These were some of the comments we received:
"Vaccine needs more test results and more testing. Maybe after a year or so."
"No way! Have you seen the ingredients in one? Ugh."
"Willingly? No."
But we also had the chance to speak with a pediatrician who works in Tampa, Dr. David Berger. He says it's far too early to be having these kinds of discussions.
"Let's say the protection lasts for 3 months. Will people consent to getting a vaccine every 3 months? You know there's lots of, there's too many permutations as to what this may end up looking like," said Dr. Berger.
Ultimately, Dr. Hawkes says, whatever vaccine does come to market should be left up to the choice of the patient.
"I think probably a voluntary method is probably most effective," said Dr. Hawkes.
Hutchison says, he's leaning that way too.
"The more things we can leave to individual decisions, probably as a society, we're better off," said Hutchison.Copyright 2020 Scripps Media, Inc. All rights reserved. This material may not be published, broadcast, rewritten, or redistributed.