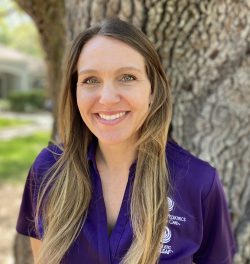 Jena Repking is a devoted family nurse practitioner who began her career in 2005 as a patient advocate in adult emergency medicine. In 2007, she pursued her dream of working with children and began a career in pediatrics as a patient support tech at Mease Countryside Hospital. Jena worked as a patient care tech in pediatrics and the adult emergency department while obtaining her undergraduate nursing degrees. During her nursing career, Jena worked at St. Joseph's Children's Hospital; four years on the Pediatric Float Team and five years in the Pediatric Emergency Department. She also worked in the adult emergency department for 1 year. Jena obtained her Associate's and Bachelor's Degrees in Nursing from St. Petersburg College. She then earned her Master's Degree in 2017 from The University of Tampa.  Jena completed a rotation at Wholistic Pediatrics & Family Care (WPFC) where she had the opportunity to gain clinical knowledge directly from Dr. David.
Jena's love for pediatrics began at a very young age. Her mom owns and operates a pediatric physical therapy clinic so she grew up around children of all ages and abilities. Her own personal health concerns as a child led her mom to seek alternative treatment options. Starting at age 6, she was introduced to many alternative and natural treatment modalities including homeopathy, craniosacral therapy, food allergy testing, dietary modifications, supplementation, and occupational therapy. These successful alternative treatments are what led Jena to integrative medicine. She now uses those same modalities and others in her own children to help keep them well, and manage sensory processing disorder, and hyperactivity. She continues to incorporate integrative medicine practices into her family's daily life. 
Since becoming a nurse practitioner in 2017, Jena has worked in a walk-in clinic setting, treating both children and adults. Most recently, she has worked in adult primary care, focusing on functional and root cause medicine. She is working towards a certification in Functional Medicine from The School of Applied Functional Medicine. 
Jena's passion is working with individuals and families to optimize their health and wellness and to find the root cause of their concerns. By creating an individualized plan of care, she aims to help her patients feel their best and to be the healthiest version of themselves that they can be. 
Jena is married and has three children. She and her family enjoy outdoor activities, exercise, cooking, and family game nights.