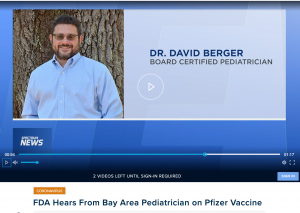 To View the News VIDEO, click the image above or this LINK
---
TAMPA, Fla. — Board Certified Pediatrician Dr. David Berger was among the medical professionals the Food and Drug Administration's vaccine advisory committee heard from during Thursday's hearing on Pfizer's vaccine candidate.
Berger said he's one of the few pediatricians in Florida who won't discharge families from his practice because of hesitancy about vaccines or unwillingness to follow the Centers for Disease Control and Prevention's recommended schedule.
"It's important to respect people who have concerns or hesitancy about vaccines," Berger told the group. "I often find that hesitant families will proceed with vaccines if they don't feel that their concerns were blown off and minimized, but instead were respected and tended to."
Berger said more data and transparency regarding that information will be key to boosting the public's confidence in a COVID-19 vaccine. However, Berger said when preparing to advise the committee, he had questions of his own.
"I was asked to make this presentation and submit all my slides on Friday. They didn't release the data until two days ago. I had to make a presentation based on a press release, not on actual data," Berger told Spectrum Bay News 9.
Berger said what he did ultimately find in the data on Pfizer's vaccine candidate was concerning. He said four people who got the vaccine developed Bell's palsy, compared to none in the placebo group. Berger said vaccinated study participants also saw more instances of significant lymph node swelling.
"That doesn't mean that one should not take the vaccine based upon just that, but that's a piece of information that didn't come out in the press release. That came out yesterday," Berger said.
Berger told the FDA committee there's specific data he thinks they can collect and share to put the public at ease. He suggested developing a coordinated federal plan to quickly track side effects nationwide. He also implored the group to track people who get he vaccine for at least six months. He said that's how long it can take for some autoimmune or other negative conditions to develop.
"Obviously, everybody wants this virus to go away, but for us to feel comfortable about it, we have to be able to say, 'Yes, I've assessed the benefits. I've assessed the risks. This is my decision,'" Berger said.
Berger said he'd like to see the U.S. track how people with allergies respond to the vaccine. He also requested to speak during the advisory committee meeting on Moderna's vaccine candidate. He said he's hopeful he'll have more information to work with at that presentation.
Original Source: https://www.baynews9.com/fl/tampa/health/2020/12/15/fda-hears-from-bay-area-pediatrician-on-pfizer-vaccine